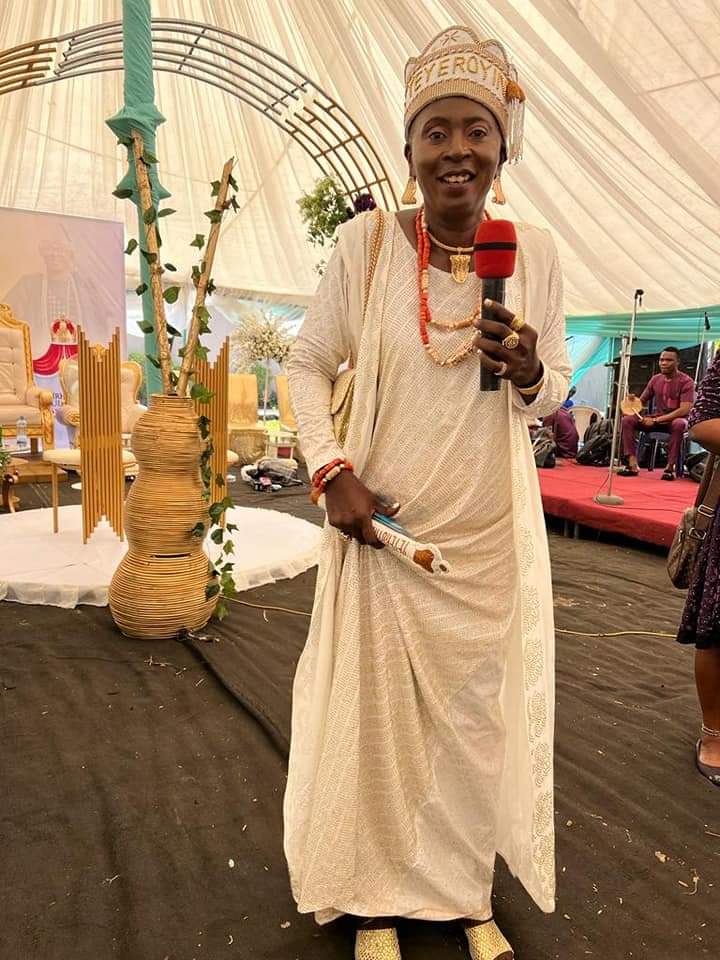 The immediate past Chairperson of National Association of Women Journalists (NAWOJ) Ondo state chapter, and a prominent daughter of Ijebuland, Yeye Adesola Salami has been installed as the Yeroyin of Isonyinland in Ijebu North East area of Ogun state.
The serene community of Isoyinland was a beehive of activities on Saturday, Novemeber 24, 2022 has the traidtional ruler of the ancient community, the Saderiren of Isonyin- Ijebu, playing host to other neighbouring monarchs and dignitaries honoured the woman of style among others.
Yeye Adesola Salami, a media practitioner of many years with experience in both the print and electronics was honoured by HRH., Alaiyeluwa Oba Abdulrasheed Omotayo Cossy Salami, the Saderiren of Isonyin, Ilufemoye1 for her many contributions to her fatherland especially in the promotions of Isonyin land to the world at large Through her various media platforms.
Through her, many sons and daughters of Isonyin who have lost touch with home are now reunited with their roots through her Omo Meji Isonyin (OMI), online platform- A platform, Yeye Adesola Salami created for the dissemination of home news to the people especially those in The Diaspora.
Yeye Salami, the immediate past Chairperson of Nigeria Association of Women Journalists ( NAWOJ), Ondo state Chapter is also the publisher of Style Network Magazine. Yeroyin, is an embodiment of goodness and a woman of many characters. This Isonyin Ambassador, an executive member of Isonyin Community Development Association ( ICDA) is a writer, artiste and entrepreneur.