The Neo-Black Movement of Africa (NBM of Africa) has called on members of the movement to shun violence, social vices and actions inimical to the progress of the society.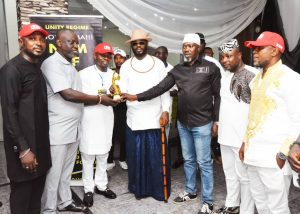 The group also canvassed members to do more in promoting the interest and welfare of their counterparts irrespective of religion, political and social settings, and therefore serve as good ambassadors of the movement worldwide.
The group made this known on Saturday during the inaugural Black Boogie and College Brothers Summit held at the Banquet hall of the Equity Hotel and Resort Ijebu Ode in Ogun State.
Speaking at the seminar tagged: 'NBM of Today', Mr Ogunlaja Kazeem, President, Western Region of the movement, said; "first, we need to understand that NBM is an organization with true African heritage, culture, tradition representation and aims to protect the fundamental rights of all persons, irrespective of religion, ethnicity, tribe and gender.
As of today, the movement have embarked on numerous charity works, image rebranding, humanitarian and community development projects. We also need to do more in promoting the interest and welfare of our members. By the same token, all members of the movement should be seen as good ambassadors of NBM Worldwide."
Highlights of the event which was organised by the Ijebu Zone of the Neo-Black Movement included medical outreach for prisoners at the Ijebu-Ode Correctional Centre, market men and women at the Oke-Aje market, visit to orphanage homes, footbal matches as well as giving out of awards to outstanding NBM members.