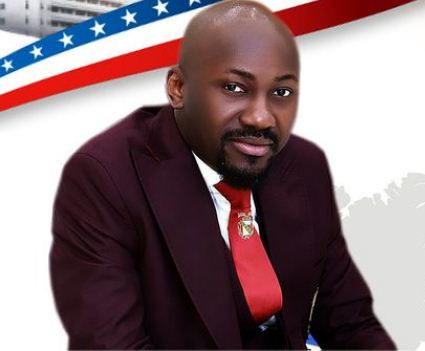 Servant of God and senior pastor at the Omega Fire Ministries (OFM) worldwide, Apostle Johnson Suleman, has arrived in Hartsfield-Jackson International Airport, Atlanta, for a powerful, impacting apostolic programme which takes off today, Tuesday 13th of July, 2021.
The two-day crusade tagged 'IMPACT 2021', is intended as usual to usher in a new vista of spiritual, moral, physical, material, political and even economic transformation, for the most populous capital city of the state of Georgia.
Some parts of Jesus Christ's accreditation were miracles, signs and wonders, which prove that he really was sent to man from God. And they prove too that He was worth listening to. The same assignment is placed on the life of select prophets of God today. Apostle Johnson Suleman is one of such messengers of hope.
A world renowned preacher of the gospel, televangelist, teacher and apostle of love and peace, Suleman is not just doing well to showcase God's supernatural powers via the manifestations of signs, miracles and wonders, he is also by carrying out the mission, proving the fact that Jesus is alive and is pouring out His Spirit upon all flesh, so that every man can be a partaker of the divine nature.
Like Apostle Paul, Apostle Suleman preaches the gospel of Jesus Christ both in words and deeds. The prophetic grace of God upon him is unparalleled as witnessed in all his undertakings. 'The Restoration Apostle', as he is fondly addressed, regularly unleashes miracles, signs and wonders with great explosion, grace and generational impact. All ending with wonderful testimonies.
As the first day of the crusade progresses at the Atlanta Event Hall, 3750 Venture Drive Duluth GA 30096, participants have been giving several testimonies of miraculous healing, miracle of salvation in addition to physical healing. And the prophet feels visibly impressed by their testimonials and attendance.
"This is proof that he, indeed, is in Atlanta, for God, the good and glory," intoned an impressed worshipper.
The ongoing crusade is decorated with a beautiful visitation by the Lord, as He pours down His healing power with lives being restored and many receiving miracles for various afflictions. While validating the effect of the day, Apostle Suleman said; "when the people's hearts are ready to receive God's message, they embrace the truth about God's messages because that would have to be their lifeline when this gathering is over."